St Paul's Church, Napier
Session and Board of Managers have considered the report relating to this historical painting which is in the lounge of the church.

BoM Report
and Conservator's Estimate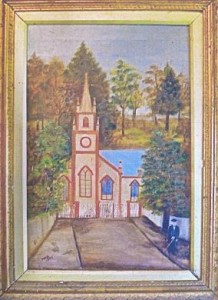 Report from
Alexander Turnbull Library
We believe we have the responsibility to maintain historic artefacts such as this and will proceed with the conservation of this painting. It is expected that including freight and other items (new stretcher) this will cost approx $1,200.
We invite Parishioners and others interested in this project to make a financial contribution to help us to get this work completed.
If anyone would like more information or would like to see the full report please contact Bryan Rudd.
Bryan Rudd
Chair
Board of Managers
August 2011